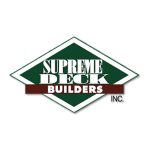 Deck Repair Michigan for rotted decks and deck cleaning in Michigan. The preferred deck contractor.
Supreme Deck has been servicing Southeast Michigan since 1991.  A full service deck company that services a large area from Ann Arbor, Brighton, Rochester Hills, Livonia, Milford and everywhere in between.  We are a licensed and insured deck builder that also takes on small jobs like board repair.  We repair rotted posts, rotted fascia, damaged steps, uneven staircases, and warped treated boards.
Deck Cleaning & Pressure Washing services
We have 25 years of experience in deck cleaning and sealing.  During the peak season our service area is limited (May-June) after peak our territory is extended.  Cedar decks were popular in the 90's and many of them are showing their age and rotting out.  Supreme Deck repair Michigan
Deck Repair and wood deck builders
Michigan deck repair or deck resurfacing is a popular option to save money.  When you keep the frame of the deck you do not typically need a permit to perform the work. We can inspect your frame to see if it will support another deck floor and last the life of the new deck.  Contact us to check the hardware that may be rusting.
We can help you today! Request an estimate here!
Award winning Trex deck builders in Michigan
We are one of the largest TrexPro Platinum custom deck builders in Michigan. Deck replacement, floor replacement, or resurfacing is becoming a popular option with many homeowners. It is a less expensive option than a complete build.
Wood deck cleaning and deck repair Michigan
Feel free to contact us to see if your existing deck was built to code. Michigan harsh springs are causing many decks to sink or rise, we have the experience of deck repair or leveling or them. Rochester Hills, Ann Arbor, and Northville, Michigan (MI) weather can be harsh on your wood deck, log home, Rainbow Play Set, and fence.
Rotted cedar deck in Michigan
Your exterior Cedar, Pressure Treated, composite, or exotic hardwood deck is an investment and favorite gathering place for your family and friends. Count on a professional deck contracting company like Supreme Deck to give you a fair estimate on any services needed on your new or existing deck.
Power Washing Driveways, Houses and fences
Licensed and insured pressure washing company since 1991
Cities that we service in Michigan
Livonia
Rochester Hills
Troy
Novi
Northville
Canton
South Lyon
Brighton
Ann Arbor
We can help you today! Request an estimate here!